3M blank polyester double-adhesive label roll
De

173.00

€ à

1,093.00

€
Tax excluded
Tax excluded
Livraison : 3 à 6 semaines
High performance technical label
The best adhesive
Adapted to TTH printers
Adapted to harsh environments
Read more...
This 3M blank polyester double-adhesive label roll is the most effective solution that helps you to accurately identify your assets. It is available at a very attractive price.
Label rolls are preferred by professionals.
Made of an extremely resistant polyester base,
this double adhesive label is the best flexible label roll to help you identify all your assets, both IT equipment as well as furniture, at a very attractive price!
With the help of a thermal transfer printer, you can now print different types of high quality label rolls : barcode label, customized label, etc.
The 3M range of double-adhesive polyester label rolls adapted to the thermal transfer printer is more efficient than other standard customized labels available in the market.
Thanks to its acrylic adhesive that is two times thicker than a classic polyester label, this label roll preferred by professionals, exhibits exceptional strength and durability on all sorts of rugged surfaces, even outdoors and in harsh environments. This customized label can also be used for assets that are frequently used and cleaned, for instance in laboratories. Manual removal of the label is difficult The label roll adhesive ensures that the thermal transfer label has a firm and durable grip on the surface.
The satin metallic polyester gives a premium look to the customized label roll: barcode label, manufacturing equipment label, etc.
Furthermore, the high performance top layer for setting the ink gives all your label prints excellent resistance to scratches, abrasions, chemical products, extreme temperatures ranging from -55° to +155°, humidity, oils and cleaning products.
Customized your polyester label roll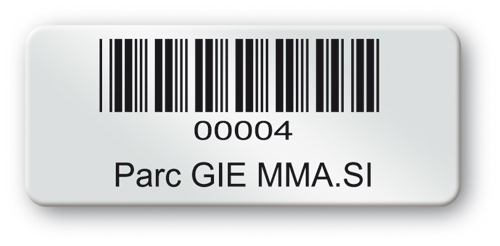 This range of customizable label rolls enables you to customized your labels yourself. With the help of our Mach 4 or SATO thermal transfer printers, you can customized print all your fixed or variable information (logos, texts, numberings and/or barcodes). The label roll thus customized will enhance the image of your company, and you will have the freedom to print labels as per your requirements and use them either as manufacturer labels or as barcode labels.
We offer you the option of protecting your label prints with the help of the transparent polyester protection that ensures long term durability and offers better resistance to solvents and UV rays.
Optionally, we can pre-print these labels in color, depending on your requirements: frames, artwork, logos, or fixed texts.
We offer labels in three sizes:
- 40 x 15 mm
- 50 x 20 mm
- 60 x 25 mm
The size 60x25mm and the rolls of 5000 labels are not compatible with our SATO CG2 thermal transfer printer. For any other specific size or cut, please contact us.
Make an accurate estimate of the quantity you require and make the most of our highly discounted rates on these polyester labels.
Data sheet
Unity

le rouleau

Packaging

le rouleau

Guarantee

1 an

Code catalogue

C015 D015 E089 F089

Fixation

Autocollant

Security

Aucune

Adhésif

Très puissant

Impression

Transfert Thermique / Numérique

Résistance de l'impression

Usage courant

Résistance générale

Abrasion

Matière

Synthétique

Format

40x15 mm
No customer reviews for the moment.
Format 40x15mm Ref. IMP-PETDA1-BL1
| | | | |
| --- | --- | --- | --- |
| 1 | 173 € | 464 € | 773 € |
Format 50x20mm Ref. IMP-PETDA2-BL1
| | | | |
| --- | --- | --- | --- |
| 1 | 208 € | 557 € | 928 € |
Format 60x25mm Ref. IMP-PETDA3-BL1
| | | | |
| --- | --- | --- | --- |
| 1 | 245 € | 656 € | 1093 € |
With this product you may need to use: