Low price inventory labels
Inventory labels: discover our complete range
SBE presents its best range of polyester labels, polyethylene labels and nylon labels: low price inventory laser labels, durable and with excellent appearance, made from the best materials and adhesives thanks to numerous laboratory tests. We also offer to make each of your durable labels a customized label.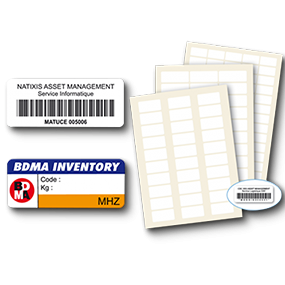 Our inventory labels in a few words:
Our polyester label, our polyethylene label and our nylon label are for temporary use and allow you to keep your accounts in order. In addition, each laser label is pre-printable, blank and available in rolls or A4 sheets so you can do your own printing and have your own customized label. Now, all your property, furniture and computers can be used in an optimal way thanks to these inventory labels, the price of which is highly competitive, and whose use is remarkably efficient. In addition, every destructible laser label can become a customized label at your request. In order to simplify your inventories, ask for your own scannable barcode labels, which will save you valuable time.
If you would like further information on our inventory labels, please consult our guides: