Industrial Stickers
Are you looking for a powerful sticker that can identify your industrial machines and objects under difficult conditions at an attractive price? An adhesive vinyl resistant to extreme temperatures (from -80° to +150°), to steam jets, chemicals, hydrocarbons, solvents and acids, usable outside and with UV protection: our range of industrial labelling is the solution.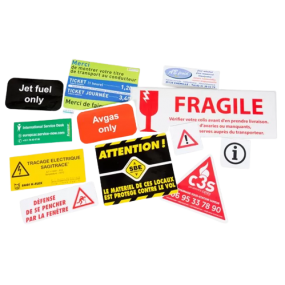 Identification and safety labels for your goods and premises
Once affixed to your surface, these industrial labels will enhance your company's brand image through our high-quality digital (traditional) screen printing. Our customized adhesive labels are varied and adaptable, but for quality and security they remain at the top of the market. Our polycarbonate label has the most powerful adhesion on the market while our adhesive stickers are customizable to the nth degree.
Durable, high quality industrial labelling
These industrial stickers also have a very respectable life span. Available quickly and at a highly degressive rate: choose the performance and quality of our customizable labels. You will not be disappointed by our range of high quality stickers!