Counterfeit detector
Secure all your cash transactions with our ECB-certified counterfeit detector.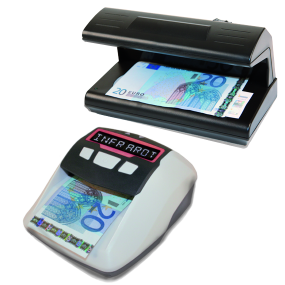 Automatic fake ticket detector
To prevent these forgeries it is necessary to equip yourself with the appropriate equipment. Discover here our range of fake ticket detection products. Our reliable and easy to use counterfeit detectors will allow you to quickly identify a counterfeit ticket.
However, the difference should be noted between, on the one hand, an automatic counterfeit detector, in which the ticket is placed, and then a message appears in case of a fraudulent ticket, as below. It emits a sound and sends a clear message in the presence of a counterfeit ticket.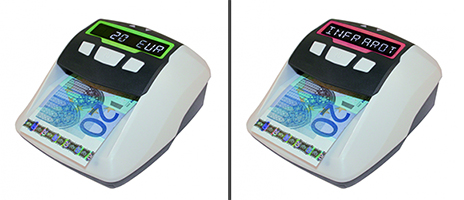 UV lamp banknote detector
and on the other hand a UV lamp banknote detector which highlights control elements such as: watermark, golden iridescent strip, holographic pellet or especially UV ink. Indeed, a purple banknote under ultraviolet light becomes dark, and some parts become green. In particular the European flag and the signature of the representative of the European Central Bank.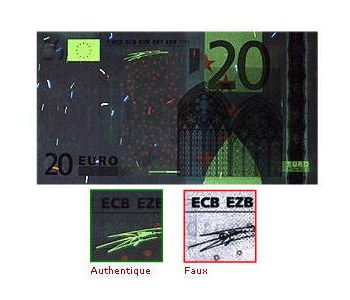 Partial reproduction of a 20 euro banknote
subjected to UV light and an example of counterfeiting.
© Banque de France/ECB
To learn more about the security and control of European banknotes, we suggest you read the official document issued by the ECB.
It details the measures taken by the ECB and the national central banks to combat monetary fraud. It also provides advice on what to do in the presence of a counterfeit ticket, and of course it clearly explains every point of identification and security of a real European banknote.