Secure inventory labels
Polyester labels, laser labels, VOID labels, barcode labels discover the solutions we offer you to secure and increase the reliability of your inventories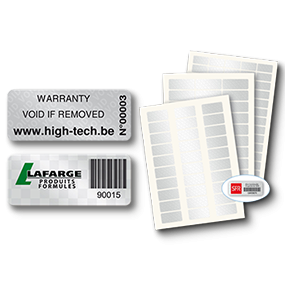 The secure inventory label, why adopt it?
Professionals are increasingly aware that it is necessary for the reliability of their inventories to equip themselveswith secure inventory labels such as the barcode label.
Never make mistakes again with your inventories by using the barcode label. Each label offered here can become a customized label by printing whatever you like on them in order to strengthen your brand image.
A high level of security
These untransferable labels guarantee an optimal level of security since once applied on the equipment in question they will leave a VOID mark if they are ripped off. With these secure labels, you will then have the irrefutable proof that there has been an attempt to open the item or someone simply wanted to remove the label.