Anti-theft tamper-proof SBE color printing plate
De

275.00

€ à

1,567.00

€
Tax excluded
Tax excluded
Livraison : 3 à 6 semaines
Impossible to remove
Your material recovered if lost
Format suitable for laptop, organizer, mobile...
Real ownership plate
Read more...
Much more than a simple barcode plate protecting you from theft, this ownership plate also called the identification plate is totally tear-proof and permanently embedded on your equipment. Create a secure image of your company; secure your property while ensuring that you find it: no other professional plate in the world offers you such a level of security at such a price.
The ownership plate for an inventory of formidable reliability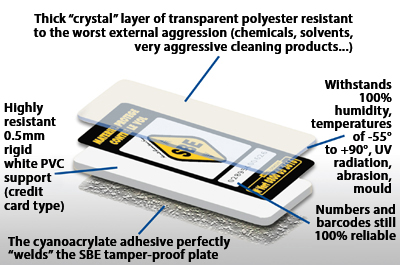 The only marking in the world really impossible to tear-off, resistant to 100% humidity to temperatures -55 ° to + 90 °, to UV rays, to abrasion, to molds... with this ownership plate, you can be sure that your inventory markings can never be removed, they will be a real anti-theft system for a laptop.

Thanks to this ownership plate your products are identified and protected, your inventory is facilitated, your brand is highlighted. Made of three independent parts that bind during assembly, the finish and aesthetics of this nameplate are of premium quality. The first is the 0.5mm PVC main support. It is hard, very resistant, white in color and resembles a credit card. On the top of the ownership plate is the second part, which will allow you to permanently identify: the inscriptions are reliable even after several years. To cover these parts, a thick layer of transparent polyester resistant to the worst external attacks, such as chemicals, solvents, cleaners... is applied. In order to fix the whole plate on your supports, a cyanocrylate type glue, perfectly affixes the nameplate on any rough or painted surface.
A tamper-proof ownership plate with barcode that permanently certifies your possession
Exclusive patent designer, SBE is the only company in the world which is offering you this colored ownership plate whose effectiveness is proven. Many of our customers will recommend it, both to protect your products, and to identify them.

Ideal for securing your computer and office equipment, this ownership plate is also very suitable for all electronic devices in laboratories, workshops, industries in general.
Affixed to your goods, this SBE tamper-proof antitheft plate has triple efficiency: it reduces the risk of theft attempt of your equipment due to the deterrence it entails, it enables you to get noticed in order to clearly assert the ownership of your goods, and finally, this nameplate guarantees to find your lost equipment thanks to the number present on the anti-theft plates and at SBE Anti-theft National Register.
This tamper-proof ownership plate establishes a permanent link between you and your equipment thanks to the SBE anti-theft register
Every day in France, nearly 160 thefts and loss of equipment are listed, and this is only in the corporate world. Thanks to SBE and its ownership plate, you can now protect your property and achieve a high level of security at a lower cost. (To know more, please visit our page on IT theft in figures)
By purchasing this ownership plate, you will not only discourage theft and clearly identify your company, but you will also establish a permanent link between you and your equipment through a file independent of your company: the SBE Anti-Theft Register. In this file, we will save the numbers present on the Anti-theft Labels throughout the life of the equipment. Thus, in case of theft or loss, SBE will have saved the information of your property in a red list, any person (individual, police, customs...) who finds this material, would be obliged to return it to you, otherwise he would be called a receiver. All this information is specified on a deterrent sticker provided with the anti-theft plate, which is an additional tool for discouraging theft of your goods.
To know more about the Antitheft File, please visit our information page:
This professional plate can serve both as an external sign and as an internal sign to display the ownership of your goods.
A tamperproof, simple to use manufacturer label for optimizing protection and identification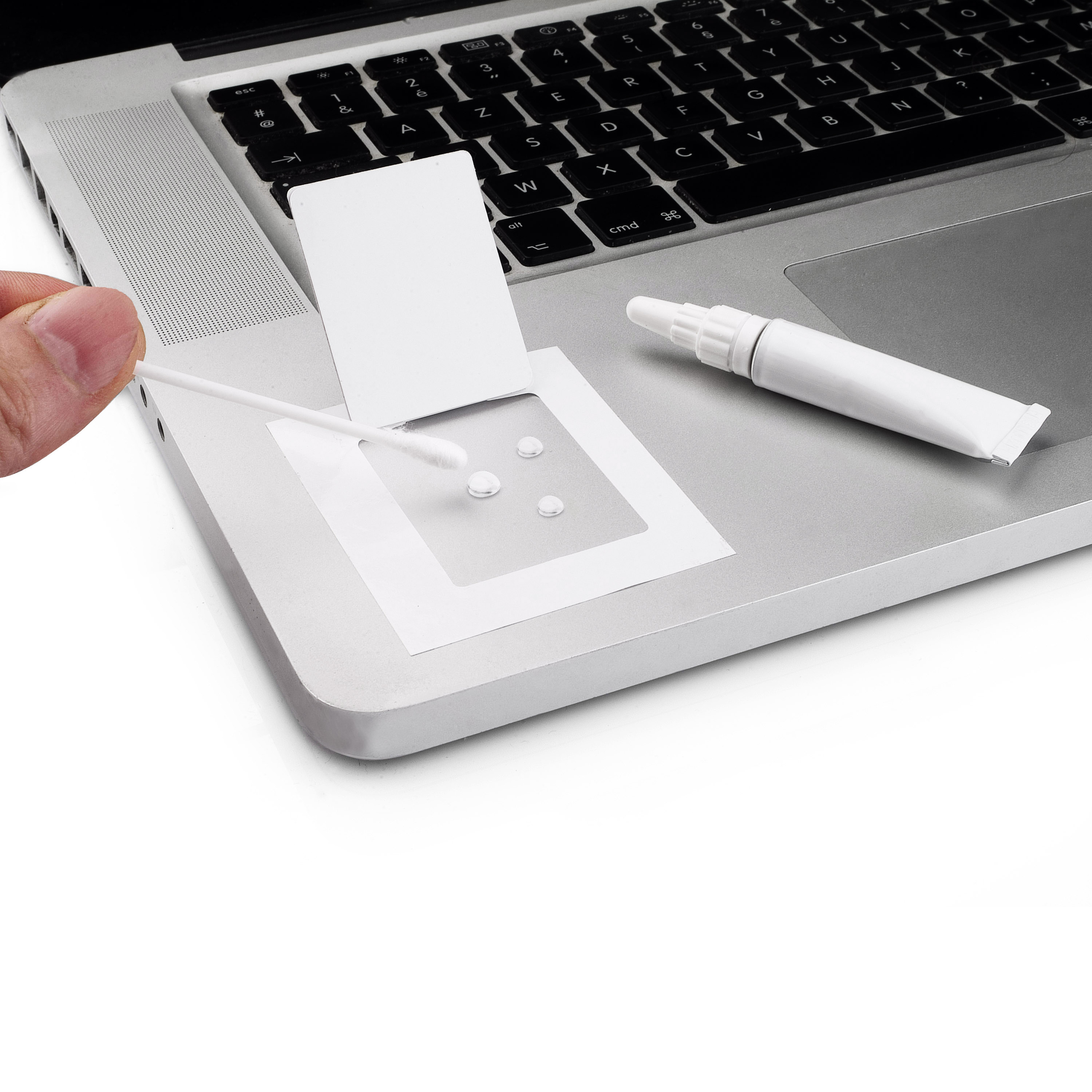 Delivered with a complete installation kit including applicators, cotton buds and a special glue, let the user manual guide you: in less than a minute your ownership label is attached, without any supplement to be provided. By

choosing this identification plate you enhance the image of your company by including its colors. The printing techniques used give a perfect result (professional quality screen printing), bright colors and f printing.

In order to customize your professional label in a better way, SBE allows you freedom in the presentation of your anti-theft marking: texts, barcodes, QR codes, sequential numbering, graphics and logos.

Similarly, make the best of our highly reduced bulk rates by perfectly estimating your quantities and request our free samples in order to see for yourself the effectiveness of this Anti-theft Tamperproof Label. Plate costs

for ownership plates on initial orders are to be expected.
SBE also proposes to you this tamperproof label in black print.
New! Extra powerful cyano adhesive solvent free and odourless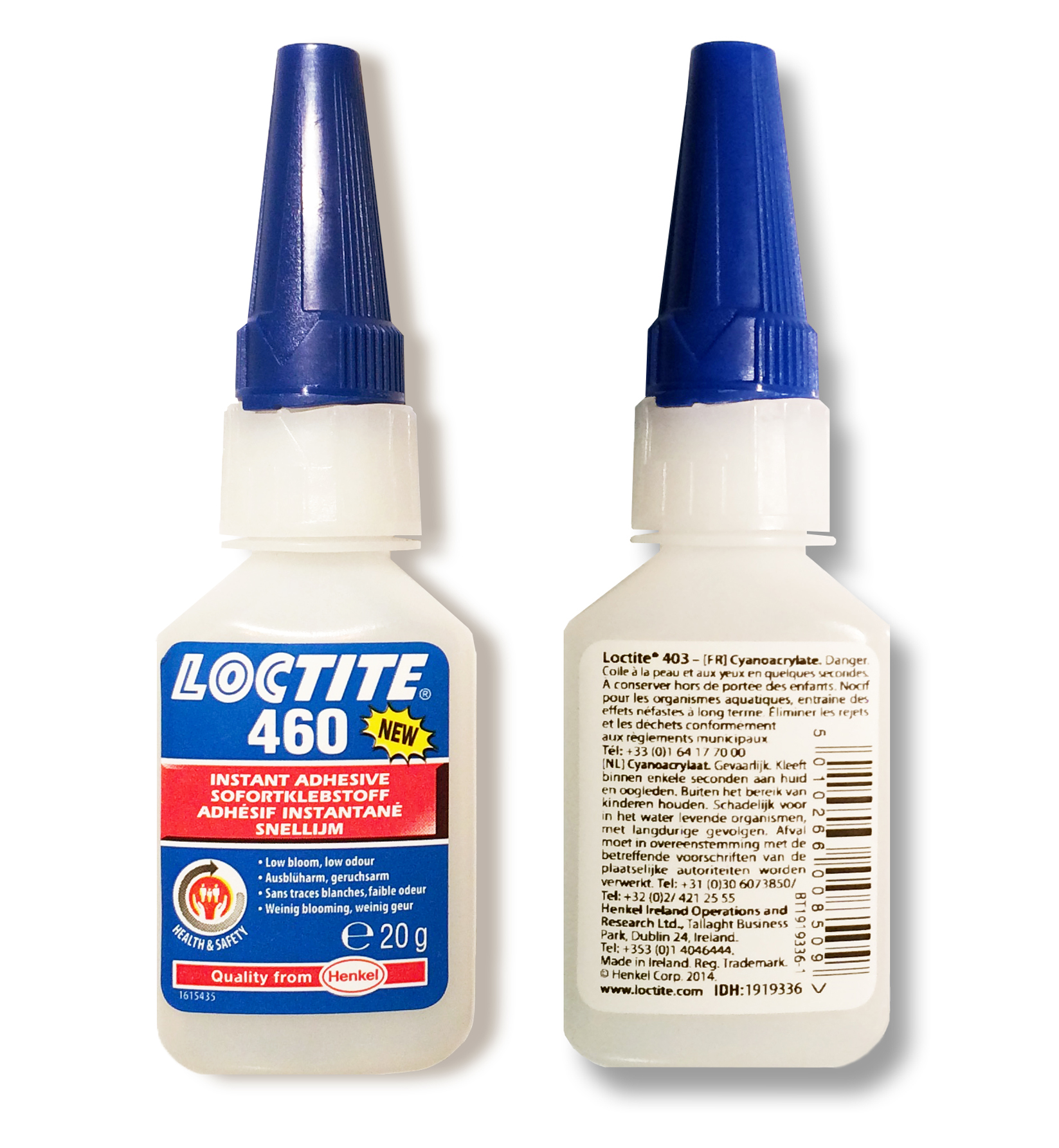 As strong as SB cyanoacrylate glue.
No smell
Glues instantaneously
Approved by the EU directive 2011/65 RoHS
Perfect finish, does not leave a white trace.

Ideal for gluing large quantities of Tamperproof Labels, this glue is guaranteed as odorless and without any white traces on the fingers. With no safety warning, nor any apparent pictogram, it perfectly meets the safety properties fixed by SBE. A few drops are sufficient to glue the tamperproof labels in a few seconds on all types of supports (metals, wood, plastic, glass).
Plate format:
36 x 46 mm Ref. no. PI-PLINV-COUL
Delivered in a "ready to install" kit, all included!
Be careful not to use degreasing agent bags for these products requiring gluing with Cyanoacrylate glue.
Data sheet
Unity

les 100 plaques

Packaging

par paquet de 100

Guarantee

1 an

Code catalogue

A056 B056 C025 D082 E169 F169

Fixation

Soudure Cyanoacrylate

Security

Inarrachable

Adhésif

Inarrachable

Impression

Sérigraphie

Résistance de l'impression

Optimum / Protégée

Résistance générale

Abrasion

Matière

Synthétique
Download
No customer reviews for the moment.
Colle cyanoacrylate Standard SBE Ref. PI-PLANT-COUL
| | |
| --- | --- |
| 1 | 1530 € |
| 3 | 965 € |
| 5 | 692 € |
| 10 | 453 € |
| 30 | 404 € |
| 50 | 318 € |
| 100 | 275 € |
Colle cyanoacrylate Sans solvant Ref. PI-PLANT-COUL-L
| | |
| --- | --- |
| 1 | 1567 € |
| 3 | 1004 € |
| 5 | 730 € |
| 10 | 492 € |
| 30 | 444 € |
| 50 | 357 € |
| 100 | 312 € |
With this product you may need to use: