Cable lock for laptop - Destock security
More than 10,000 thefts of IT equipment are committed in companies in France every year. Opt for computer protection with the help of this range of anti-theft computer anchoring devices and computer security cables. Install a 100% mechanical system which will dissuade anyone from trying to remove one of your office computers or iMacs.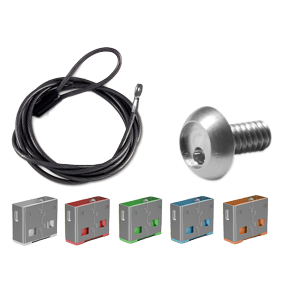 Computer anchoring: the benefits of an anti-theft system for your office computer.
Your digital material offers several points of attack. Different kinds ofPC and iMAcanti-theft device allow you to:
secure your peripherals and USB ports
to anchor your CPU with the aid of an adhesive power of between 1 and 2.5 tons
to prevent the opening of housings using various anti-theft screws, thereby preventing any hostile intrusion or removal
A design of master key, available as an option, allows the administration of the different systems installed.
Computer anchoring devices, PC anti-theft devices adapted to every budget and need: computer anti-theft devices and mechanical anchoring
We have 3 steelPC anti-theft systems, from the least expensive to the highest possible level of security, all depending on your risk exposure and your budget. Take advantage of our degressive pricing to protect the whole gamut of your computers thanks also to our iMac anti-theft system.
These PC anti-theft devices, PC supports and computer anchorings are easy to use, safe and provide long-term protection.