Reinforced Polyethylene TTh Blank Asset Label Rolls
De

80.00

€ à

536.00

€
Tax excluded
Tax excluded
Livraison : 3 à 6 semaines
High performance technical labels
The best selection of materials and adhesive
Compatible with any TTH printer
Harsh environments
Label roll
Read more...
Label rolls will help you to carry out an inventory at a lower cost. Our self-adhesive reinforced polyethylene blank label ensures satisfactory quality and durability at a very reasonable price.
SBE, specialists in high performance technical adhesive labels, offer you the best selection of materials and adhesives. Moreover, the label roll is perfectly adapted to SATO and CAB label printers.
The self-adhesive label roll comes in 3 different sizes to satisfy your printing requirements. Contact us for any other specific size or cut. We also offer the option of pre-printing these labels in colors based on your requirements: frames, artwork, logos, fixed texts. Its efficient packaging ensures that the label roll is conveniently used and easily stored.
Blank polyethylene label roll, a high performance customized label
This blank label roll is economical, extremely resistant, and shows high durability even on the most challenging surfaces. Strong permanent rubber adhesive, UV resistant. Ideal for large quantities, meant for labeling products in large quantities, for monitoring items and spare parts.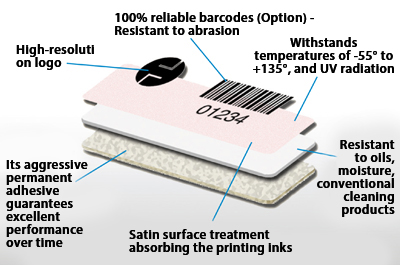 The reinforced polyethylene self-adhesive roll is a professional label designed for" real situations" which involve frequent handling . Its affordable price makes it the ideal solution for labeling products in large quantities. The permanent rubber adhesive of this label roll is very resilient and UV resistant. It offers excellent durability, even outdoors, making this product aprofessional self-adhesive label suitable for large quantities.
A customized label roll

Customized your blank labels in black print with all your fixed or variable information (logos, texts, numberings and/or barcodes with the help of our CAB, Mach 4 or E4 thermal transfer printers. This high quality label roll will simplify your inventories.

It will help you to enhance the brand image of your company by displaying your logo (black print with no raster effect) on the customized professional self-adhesive labels.

Make an accurate estimate of your requirements and make the most of our degressive pricing on the inventory label rolls.
You can also consult our blog article dedicated to durable labeling of property with the help of the label roll.
Data sheet
Unity

le rouleau

Packaging

le rouleau

Guarantee

1 an

Code catalogue

A024 B024 C005 D005 E088 F088

Fixation

Autocollant

Security

Aucune

Adhésif

Fort

Impression

Transfert Thermique / Numérique

Résistance de l'impression

Usage courant

Matière

Synthétique
No customer reviews for the moment.
Format 40x15mm Ref. IMP-PE1-1
| | | | |
| --- | --- | --- | --- |
| 1 | 80 € | 241 € | 402 € |
Format 50x20mm Ref. IMP-PE2-1
| | | | |
| --- | --- | --- | --- |
| 1 | 95 € | 284 € | 474 € |
Format 60x25mm Ref. IMP-PE3-1
| | | | |
| --- | --- | --- | --- |
| 1 | 107 € | 322 € | 536 € |
With this product you may need to use: