Fabric wristband - Satin or Woven Finish
De

73.00

€ à

143.00

€
Tax excluded
Tax excluded
Livraison : 3 à 6 semaines
Meticulously woven up to 8 colors
Satin sublimation print
Anti-fraud secure and permanent fastener
Resistant, soft and comfortable to wear
Attractive and trendy
Read more...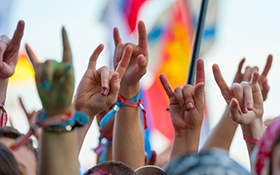 It has become a real fashion phenomenon. The fabric event wristband is considered and recognized by companies and organizations as an excellent communication vector, that people like to keep as a souvenir.
It is the flagship product for all one-time events requiring a single use identification such as gatherings and demonstrations, student evenings, concerts... It is an ideal compromise between safety and looks. The monitoring wristband will graciously circulate your message/logo and/or your company brand.
1. SELECT THE FINISH OF YOUR EVENT WRISTBAND
(Woven Fabric or Satin)
Woven advertising wristband
A true fashion phenomenon and advertising object, the woven event wristband is generally preserved for a long time by the people who wear it. It thus carries the image, the logo and / or the brand of your company. The very fine weaving of the wristband for a festival or party, and its particularly close mesh, make it a very high quality wristband extremely wear - resistant and durable. This customized wristband will be the memory of the success of your event.

The finish is very meticulous and the weaving of images, texts or logos gives it an excellent aesthetic and durable result. The base of the event wristband is white by default and you will need to provide an image for customization. It can be woven in a maximum of 8 colors.

Event wristband in printed satin
Its soft, glossy satin texture allows your business to assert a prestigious brand image. The bright look of the advertising wristband and its unalterable colors make it an excellent communication tool. Comfortable to wear and perfectly aesthetic, the customized satin event wristband is particularly appreciated by its users who like to keep it as a souvenir.
Its very fine weave and particularly tight mesh make it a high quality wristband extremely wear-resistant and durable. This customized satin event wristband is resistant to external threats: heat, cold, water (chlorine and salt), friction... Its special laser cutting prevents the wristband from fraying and prevents any deterioration.

For the customization of this satin event wristband you are the master of your desires! The printing is carried out by sublimation, leaving room for all fantasies. You will be able to print four-color digital images and create color gradients.

2. SELECT YOUR TYPE OF FASTENER
The monitoring wristbands have identical dimensions (35cm x 1.5cm), the length is manually adjustable when first fastened. All the types of fasteners offered are secure and permanent. Once the wristband is adjusted on the wrist, it cannot be removed without cutting it. The fabric event wristband is intended for single use, it cannot be transferred to another person.

The cylindrical plastic fastener: The wristband is permanently fixed by sliding the cylindrical plastic clip according to the size of the wrist. Once the wristband is adjusted you cannot modify the tightening.

The plastic ring fastener: On the same principle, this round plastic ring of smaller size slides only in one direction for single use.

The plastic press fastener: The wristband fits easily thanks to the different fastening points, it closes permanently with simple pressure.
Data sheet
Unity

les 300 bracelets

Packaging

par paquets de 100

Guarantee

1 an

Code catalogue

D227 E921 F921

Fixation

3 modèles d'attaches sécuritaires définitives

Security

Inviolable

Impression

Tissage ou Sublimation

Matière

Matière Tissée ou Satin Imprimé

Format

35 cm x 1,5 cm
No customer reviews for the moment.
Finition Satin Ref. ICB-BT-SAT-CP
| | | | |
| --- | --- | --- | --- |
| 3 | 140 € | 135 € | 143 € |
| 5 | 106 € | 102 € | 108 € |
| 7 | 91 € | 88 € | 93 € |
Finition Tissé Ref. ICB-BT-MT-CP
| | | | |
| --- | --- | --- | --- |
| 3 | 122 € | 112 € | 122 € |
| 5 | 92 € | 84 € | 92 € |
| 7 | 80 € | 73 € | 80 € |