Barcode Scanners
SBE Direct presents its range of barcode readers. If you wish to use good quality readers over a long period, choose our range which brings together performance, durability, ergonomics and handling.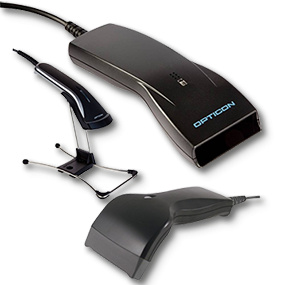 Optimize your working time and scan any label with these barcode readers.
You will find various models of hand-held barcode readers with very good value for money and designed to make your code reading quick and easy: auto-trigger hand-held reader, CCD hand-held reader, ultralight laser hand-held reader.With reading speeds up to 200 scans per second, manageable, efficient and very elegant design: all these barcode readers are able to read almost all the barcodes currently in use.
These hand-held barcode readers do not fear moisture or dust
Most of them have a high protection index (IP 54), and are the most durable on the market. These durable barcode guns are designed for multiple working environments: stores, small shops or large signs.
These hand-held barcode readers are available with the standard interfaces: USB, Ecran-Clavier and RS232.
For logistics professionals or inventory management, we also have a complete range of gun-type barcode readers.