Magneto-acoustic antitheft label
Tax excluded
Livraison : 3 à 6 semaines
An affordable high tech product
To secure your documents and property
Proven reliability
Economical prices
Read more...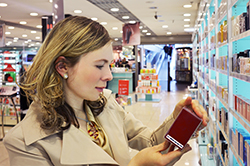 The magneto-acoustic antitheft label has been specifically designed to prevent theft in stores. This small size high tech adhesive label has the highest detection capacity in the market and is most suitable for large specialized stores.
A discreet adhesive barcode label
The antitheft barcode sticker with electromagnetic technology works on all Sensormatic and Checkpoint /Meto detection antennas of this technology. This antitheft label is sold in activated state and cannot be deactivated.
To effectively counter thefts in stores.
This antitheft label for stores is primarily used in large specialized stores because it is discreet, economical and can be stuck on most products.
This antitheft label comes in three sizes
This adhesive barcode label designed to reduce thefts is available in three formats: in white, black or white with a fake barcode. Ideal for valuable objects, this antitheft label is affixed on the product or on the casing for complete discretion.



Label format enabled:
45 x 10 mm Ref. MSEC-EA-MA-BL (white), MSEC-EA-MA-CB (white + false barcodes) and MSEC-EA-MA-BL (black).
Data sheet
Unity

la boite de 5000

Packaging

par boîte de 5000

Guarantee

1 an

Code catalogue

C174 D185 E140 F140

Fixation

Autocollant puissant

Security

Excellent

Format

11x44x2mm
No customer reviews for the moment.
With this product you may need to use: