Anti-fraud polyester black print VOID label
De

255.00

€ à

779.00

€
Tax excluded
Tax excluded
Livraison : 3 à 6 semaines
Non-reusable
Non transferable
Security control
Reveals evidence of tampering
Read more...
You are looking for a VOID label which can deter removal, opening of your goods or is a real indicator of guarantee. Between quality and efficiency, ensured by numerous tests carried out in the laboratory, and economical due to its high bulk discount rate, this VOID polyester anti-fraud black print label is the solution.

Protect efficiently thanks to polyester VOID label.
The diversity of out customers who have acquired our anti-fraud VOID labels proves their versatility, you can affix them, on your tools, machines, industrial parts, as well as on your cars, high-tech products, furniture and other manufactured goods.
It is very easy to use: once the backing of the sticker has been removed, you just have to apply it on the material which you would like to inventory or seal, the VOID label will fit the contours perfectly. Non-transferable, it is impossible to re-stick it on a different surface.

Far more than identifying, this polyester bar code label also secures your goods. In fact, in case of removal, the breakable sticker reveals the word VOID, or a checkerboard pattern, on the material as well as on the label itself, which makes the label invalid, obsolete and destroys it so that it cannot be reused. By using it as a seal on your objects, you will thus easily see if someone has opened it forcibly. Used for police checks, for safety of pieces of evidence, medical packages, as computer seals, for safes or even for confidential envelops; this label is a real deterrent and can also be used for protection of warranties.
A good quality SBE VOID label
Designed for real situations involving frequent handling, this anti-fraud VOID polyester label withstands temperatures from -40° to +180°, and also withstands oil, humidity, conventional cleaning products and UV radiation.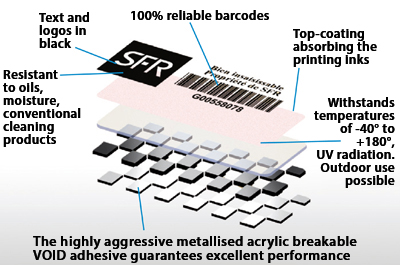 Made of three layers which bind together during assembly, the finish and end product of this VOID anti-fraud label is impeccable.
1) The first part is a very strong breakable acrylic VOID sticker (metallic or white) which ensures an excellent hold. It will leave a trace, on the label itself, and on the product, in case it is removed.
2) This sticker is attached to a flexible surface made of transparent polyester, resistant to moisture and common cleaning products.
3) Finally, the third layer is the surface treatment with a glossy agent which efficiently absorbs print inks of the label which will then be embedded on this surface.
A customized VOID label made of polyester
Ideal for meeting your large volume requirements, please clearly estimate the quantities of your customized label which you would need and please order in bulk in order to benefit from our bulk discount prices, you will make considerable savings.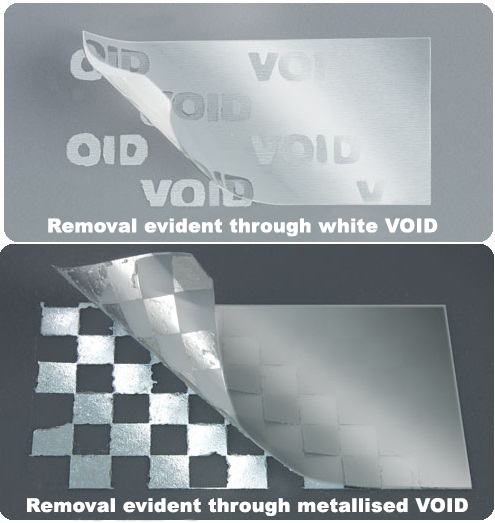 It is possible for you to include variable information such as numbering, bar codes, QR codes, but also fixed information : texts and logos, which will reinforce the brand image of your company thanks to the customized label fixed on your goods.
This customized bar code anti-fraud black print VOID label made of polyester is available in three different sizes: 40 x 15mm, 50 x 20mm and 60 x 25mm. Furthermore, the delivery is quick and is done within a week after press proof approval.
For any particular application and specific use, order your samples by clicking on the "Request sample" button : this will enable you to carry out your own tests and verify if the product corresponds to your requirements.
Tip: To make your customized anti-fraud label last longer, protect it with adapted Transparent Protection !
Data sheet
Unity

le rouleau de 1000

Packaging

Par rouleaux de 1000

Guarantee

1 an

Code catalogue

A048 B048 C006 D116 E263

Fixation

Autocollant

Security

Intransférable VOID

Adhésif

Sécurisé

Impression

Transfert Thermique / Numérique

Résistance de l'impression

Usage courant

Résistance générale

Températures

Matière

Synthétique
No customer reviews for the moment.
Format 40x15mm Ref. MSE-VOID1-BL-NB
| | |
| --- | --- |
| 1 | 678 € |
| 3 | 378 € |
| 5 | 308 € |
| 10 | 255 € |
Format 50x20mm Ref. MSE-VOID2-MT-NB
| | |
| --- | --- |
| 1 | 728 € |
| 3 | 425 € |
| 5 | 353 € |
| 10 | 298 € |
Format 60x25mm Ref. MSE-VOID3-MT-NB
| | |
| --- | --- |
| 1 | 779 € |
| 3 | 472 € |
| 5 | 398 € |
| 10 | 342 € |
With this product you may need to use: